DelVal Green and Gold Sales Bring $ 141,400 | Cattle and Cattle Breeding News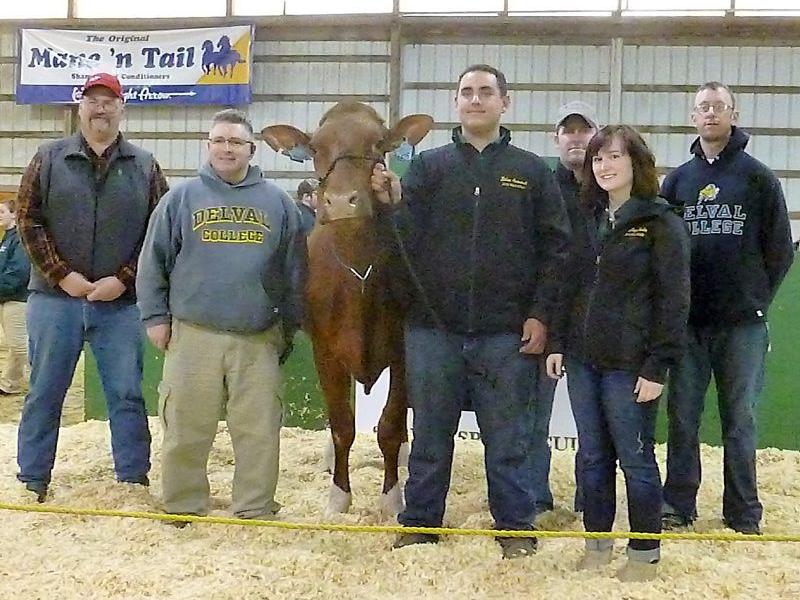 [ad_1]
Delaware Valley University's Green and Gold Sale on April 2 at the university's Equine Arena in Doylestown, Pa., Sold 71 consignment lots for a total of $ 141,400.
The 63 lots of live cattle sold for an average of $ 2,063 and the eight lots of embryos sold for an average of $ 1,425.
The sale is organized by students of the Delaware Valley University Dairy Society and co-managed by the Pennsylvania Holstein Association.
The best-selling animal was a 2-year-old newborn, Oakfield AR Splendid-Red-ET, which sold for $ 4,550.
Recorded by Dylan Riedel of Corry, Pa., She is the daughter of Mr. Apples Armani-ET and Stony-Pillar Sharmaine-Red EX-94. The university was the buyer.
Two calves tied for second, selling for $ 3,500 each.
King-Lane ABS Always-Red-ET is a winter calf whose sire was Apples Absolute-Red-ET and whose dam was Curr-Vale Apple Fever-Et EX-92. It was recorded by David King of Coatesville, Pa., And purchased by Quentin Scott and Jacob Schaefer of Little Falls, Minn.
Grand Slam Ver Cece is an Autumn Jersey calf whose sire was Verbatim Response and whose dam was Grand Slam HG Camryn. It was shipped by McKenna Vest of Clayton, Del., And purchased by Cedar Lane Farm LLC of Oldwick, NJ
Other top sellers were Castlebrook OK Cayd-Red-ET, $ 3,450, shipped from Castlebrook, Montrose, Pa., And sold to Hanna Welk, Quarryville, Pa; Trans-Acres GChip Alison-ET, $ 3,300, consigned by Melvin and Judy Peachey, Belleville, Pa., And sold to Ethan Arsenault and Matthew Driscoll, Doylestown, Pa .; Holly-Brooks Sanchez Rolls, due June 4 to Attic, $ 3,200, consigned by the Pennsylvania Holstein Association and sold to Justin and Leslie Varnicle, Gratz, Pa .; and Rob-Sara Okalif Bambi-ET, $ 3,100, shipped by Robert and Laura Emerson, Middletown, Del., and sold to David Maulfair, Jonestown, Pa.
Adam Fraley was the auctioneer. David Lentz took care of the pedigrees. Students Ethan Arenault, Mackenzie Krisher and Hayden Remsberg were co-chairs of the sale. David Bitler, Nick Raggi and Josh Sanders were part of the sales team.
[ad_2]