How farmers are turning tiny plots of vegetables into 'green gold'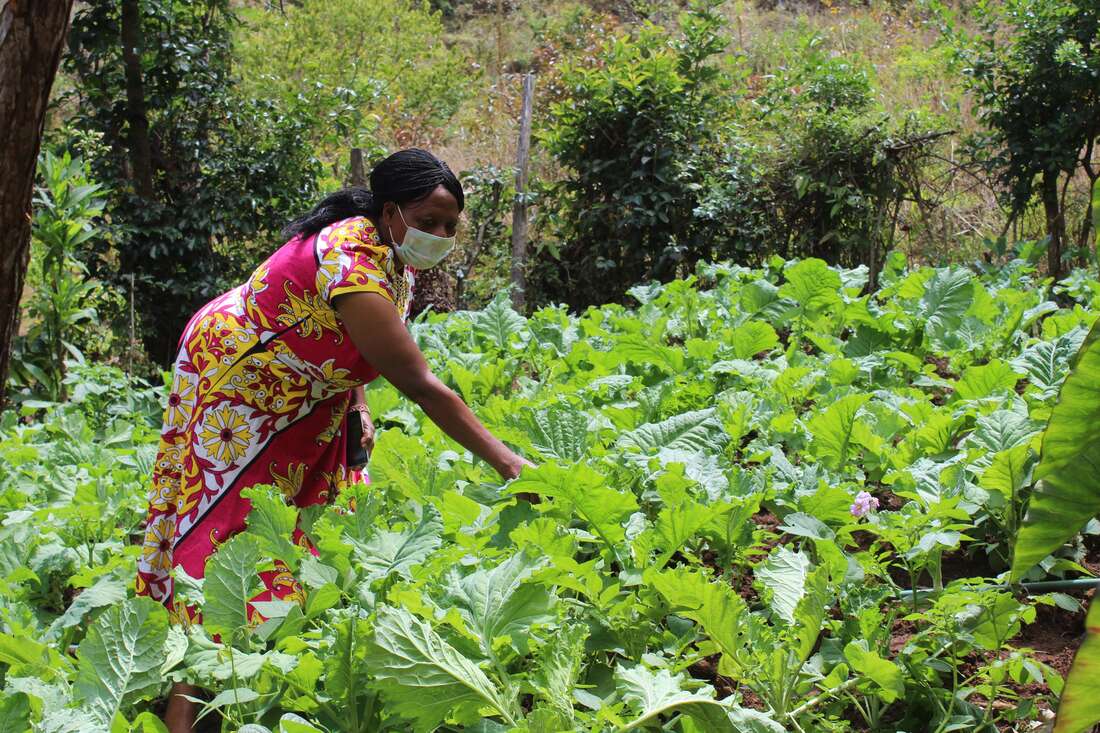 Company

How farmers are turning tiny plots of vegetables into 'green gold'
Tuesday, June 14, 2022

At 41, Frederick Atsiaya is immersed in vegetable farming at his home in Mbale, Vihiga County, saying the business is "green gold". A dairy technologist, he quit his job and this "difficult decision" tripled his income, helping him feed his two children and support four others.
Timothy Ingatia, 24, started vegetable gardening in class 7 and paid part of his school fees with income from this business.
"After the Form Four, I went to Mombasa to hustle like everyone else, but came back with very little, if anything. However, vegetable farming has changed my life," said Mr Ingatia Company in his village Emukangu in Kakamega County.
Among other benefits, Mr Ingatia says he pays for schools for his siblings by growing vegetables and aims to study agriculture at college within the next four years.
A father of one, he harvests between two and three bags of native vegetables a week. A bag of nightshade (managu) sells for 1,800 shillings while a kilogram costs 50 shillings.
Brian Owade from Ebukhala village in Khwisero got into vegetable farming by chance upon realizing casual jobs were not viable after dropping out of school in eighth grade.
"I stumbled across vegetables when looking for a crop that would sustain me while consuming little space," says Mr Owade, 27, while stressing that land is a challenge as the population grows.
Mr. Owade is a member of Ebukhala Farmers.
"A bag of vegetables costs 3,000 shillings, enough to feed my cow for a whole month. The African nightshade (managu) vegetable takes a month to be ready to harvest; a kilo goes for Sh50. That I can't get with corn.
Nyce Lanya, a social and community development worker who gave up trading grain for vegetable farming, says she wants to "feed the community using different types of vegetables, which are nutritious".
She grows African leafy vegetables such as amaranth, African nightshade, spider plant and Ethiopian mustard which are loaded with iron, calcium and vitamin A.
Ms. Lanya says she uses techniques such as raised bed farming, pushing and pulling with Napier grass, agroforestry and composting.
This group of market gardeners changes course to use the land economically by using the right techniques and choosing the right crop whose income is higher than that of maize.
Vegetables mature faster and generate higher incomes on smaller plots – less than an acre on average – than corn requires, they said.
They were able to overcome challenges such as low incomes, seek elusive casual jobs, circumvent cultural boundaries of land ownership, and go the green manure route as opposed to chemical fertilizer.
As groups of farmers, they have organized themselves into Vegetable Business Networks (VBNs) guided by the World Vegetable Center through which they are trained in compost preparation, nutrition, water, agronomy and agroforestry on demonstration farms and at the Bukura Agricultural College.
The World Vegetable Center is working on a six million euro (Sh750m at current rates) Veggies 4 Planet and People (V4P&P) project with SNV as the implementing partner. At the local level, Rural Outreach Africa is working with SNV to build the capacity of farmers in various counties in Kenya.
Launched in 2020, the five-year project focuses on regenerative agriculture covering compost, green manures, crop rotation and eliminating the use of chemical fertilizers and pesticides. Funded by the IKEA Foundation to work with women and young people in vegetable production and distribution, it aims to bridge the 'vegetable gap' and improve livelihoods and nutrition.
It focuses on job creation for youth and women and aims to establish 200 vegetable business networks, 120 in Kenya and 80 in Ethiopia, covering a network of approximately 4,000 women and youth. Now at 60 VBNs in Kenya, the project is spread across six counties of Kisumu, Vihiga, Kakamega, Machakos, Kiambu and Murang'a.
"To close the vegetable gap, people need opportunities to produce and market vegetables to generate income," said Ralph Roothaert of the World Vegetable Center, lead researcher on the project.
According to the World Vegetable Center, vegetable consumption in sub-Saharan Africa is the lowest of any region in the world.
The WHO recommends a daily consumption of 400g of fruit and vegetables per person. In sub-Saharan Africa, less than 10% of people over the age of 15 achieve this goal, while in Kenya it is 6.1%. By many accounts, the consumption of fruits and vegetables remains low due to the cost that drives many people to adopt unhealthy diets.
In the first quarter of 2022, Kenya's income from vegetables fell to 2.2 billion shillings, registering a decline of 6.1 billion shillings, according to the Kenya National Bureau of Statistics.
Data specific to traditional African vegetables is not available, said Okisegere Ojepat, chief executive of the Fresh Produce Consortium of Kenya, promising that his group and the Kenyan Agricultural Livestock Research Organization (Kalro) will publish the first report in the next three months.
Mr Atsiaya, who specialized in the production and sale of vegetable seedlings, says the business has increased his income to Sh100,000 a month from the Sh30,000 he earned as a collector of milk, working from 1h to 13h.
"I got a lot of information about crops through employment and quit to grow corn. My first business was growing corn, but I only got seven and a half bags from a land slightly larger than a quarter of an acre after six months," Mr. Atsiaya told Enterprise from his home in Rowe Village, Vihiga County.
He chose vegetable farming after "reviewing the expenses of growing corn and realizing that the business was not breaking even." Although the farms are small, "we have realized that there is green gold" in vegetable farming, he said.
Mr. Atsiaya started with 100 nurseries which were sold after six weeks at Sh300 per nursery.
"The V4P&P expanded my knowledge and I got answers to my challenges like seed germination and fungal infections," he says, adding that compost improves soil fertility, soil texture and reduces soil acidity, "which is common with chemical fertilizers".
"I realized that I was using raw manure which was affecting germination. Raw manure burns the seeds. After the composting course, my seed germination increased to 90% from just 50%." The use of biofungicides or bio-insecticides, which are also part of regenerative agriculture, also took root after the training, helping him save his managu farm prone to fungal infections.
"After the training, I was sure what I would put in the soil would be what I would get," says Mr. Atsiaya, a member of the Matsigulu group, of regenerative agriculture which has also helped him reduce soil erosion through raised beds.
Boaz Were, 52, an Ashiswa Farmers Group member and VBN coach in Emukangu village in Kakamega, says there are jobs in vegetables. "Even if you don't have land, you can buy vegetables and sell them. With vegetables, you do your own job," Were says, adding that people shouldn't "look for greener pastures far from home."
Besides small plots of land, soil erosion, drought, theft, capital, access to credit, expensive seeds and cultivation which limits communal land ownership are some of the challenges.
Ms. Lanya, a member of the bio-intensive group, grows spider plants, amaranth, kale, managu, Ethiopian cabbage from which she earns money for tuition and polytechnic fees of Sigalagala, where she obtained a diploma in social work.
She earns 4,000 shillings a week. "It's encouraging because I don't pay rent, but now I pay my own school fees and buy things like salt and other spices."
"I started growing raised beds after training in Kitale. In fact, I'm the pro, but ROA [Rural Outreach Africa] contributed to enriching the raised bed method".
She makes manure from dry corn stocks, cow dung, tithonia leaves for nitrogen, and dry grass.
In Machakos County, Anastacia Nduku, a former banker, grows amaranth, cowpea and manages two and a half acres, relying on a water pan to irrigate her farm.
Her farm a VBN demonstration site for her 35-member farmer group, she sets up a one million liter water reservoir.
[email protected]